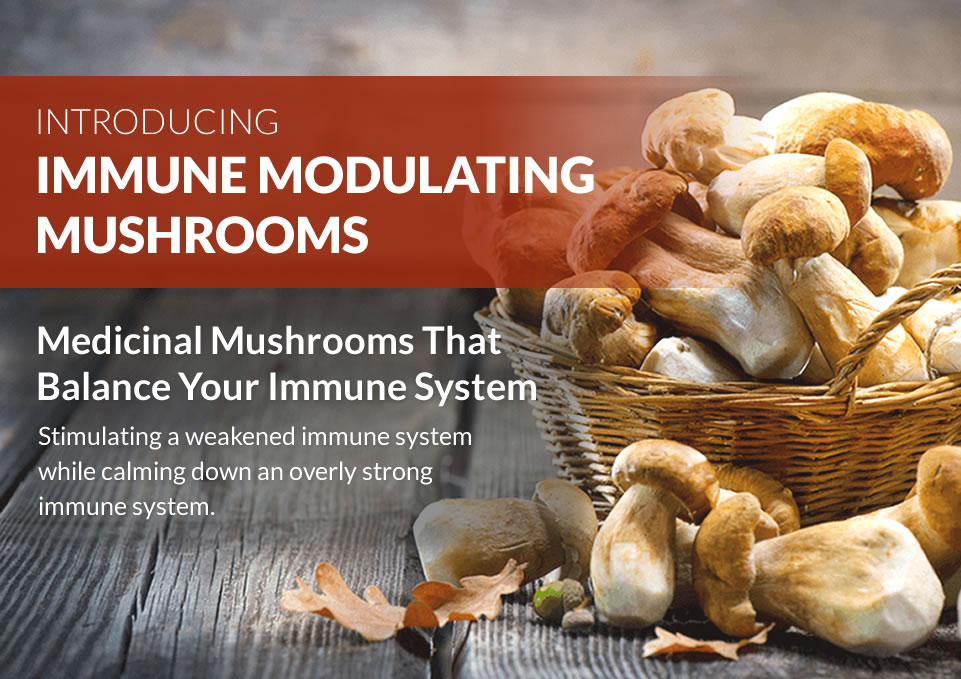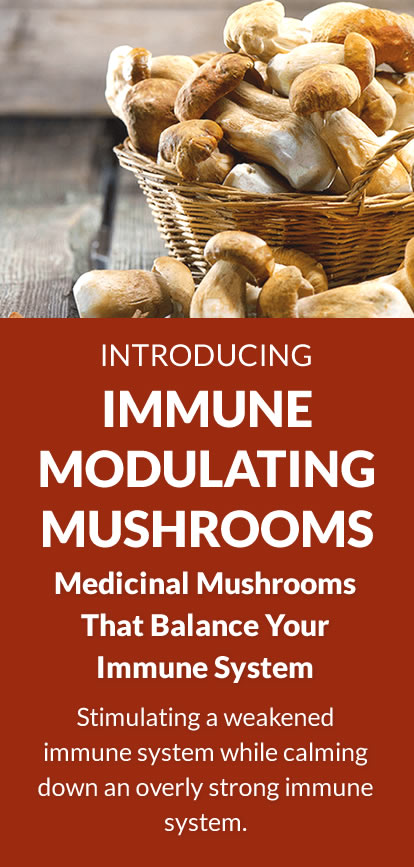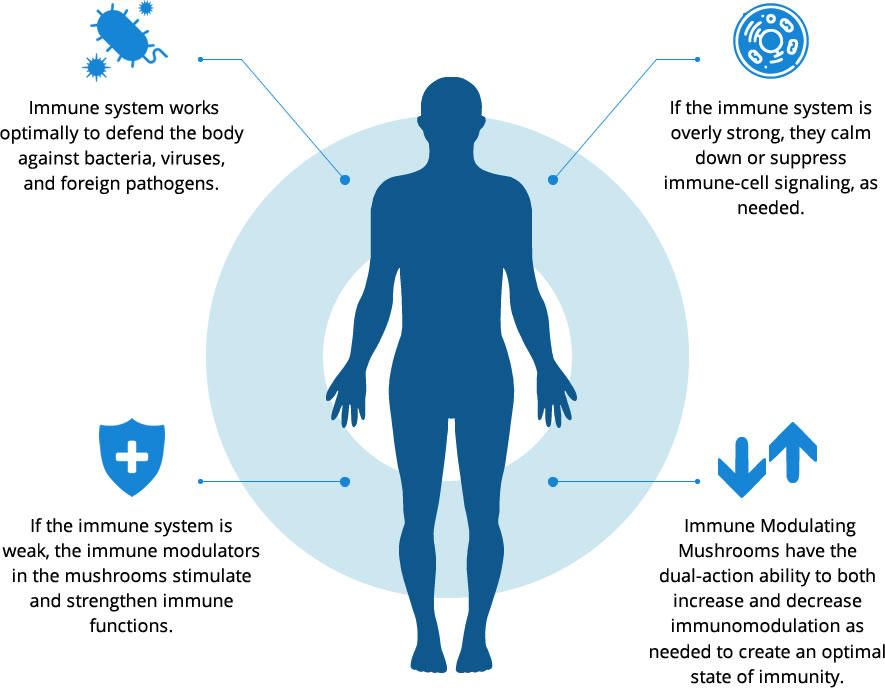 Myco Ultra Contains
8 Medicinal Mushrooms
Proven For Their
Immuno-Modulating Properties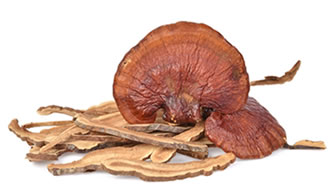 Medicinal Mushroom #1:
Reishi's bioactive compounds are long-regarded to offer cell-protective and anti-aging properties. β-glucans, which are derived from reishi extracts, are potent immunomodulators and can serve as prebiotics for gut flora.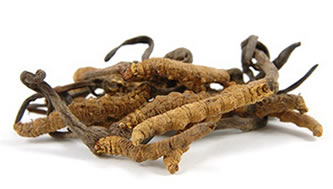 Medicinal Mushroom #2:
Cordyceps's active constituents have been shown to possess immune-balancing functions as well as anti-bacterial, anti-viral, antioxidant anti-inflammatory, and anti-tumor effects. A study of 30 healthy older adults showed an average increase of 7% in their fitness level performance after weeks of consuming cordyceps.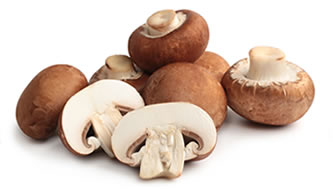 Medicinal Mushroom #3:
Agaricus blazei is rich in immunomodulating polysaccharides, β-glucans, and has been shown to have anti-infection and antiallergic or anti-asthmatic properties, in addition to the anti-inflammatory effects in inflammatory bowel disease or IBD patients.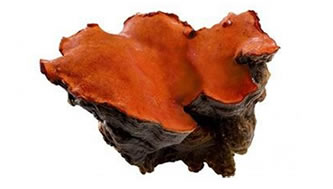 Medicinal Mushroom #4:
Antrodia camphorata's mycelia fraction has been shown to modulate innate immunity. Studies show that it helps improve liver function after being damaged by alcohol or toxins in foods.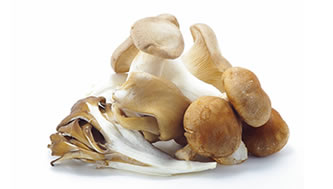 Medicinal Mushroom #5:
Maitake contains bioactive polysaccharides, which includes both alpha and β-glucans that exhibit strong immune modulating and antitumor effects.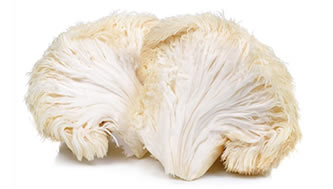 Medicinal Mushroom #6:
Lion's mane has a very high antioxidant activity that enhances the immune system, partly by reducing inflammation and preventing oxidation.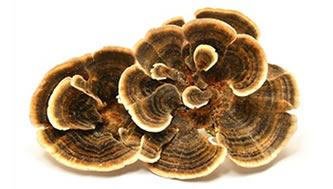 Medicinal Mushroom #7:
Turkey tail contains a compound called polysaccharide-K (PSK) that stimulates the immune system. PSK is so effective that it's an approved prescription drug in Japan.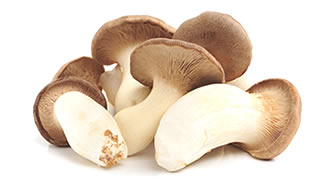 Medicinal Mushroom #8:
Pleurotus eryngii contains high amounts of ergothioneine, a naturally occurring antioxidant amino acid that provides cellular protection against free radical damage.
Modulate Your Immune System
With Just 1 Capsule Every Day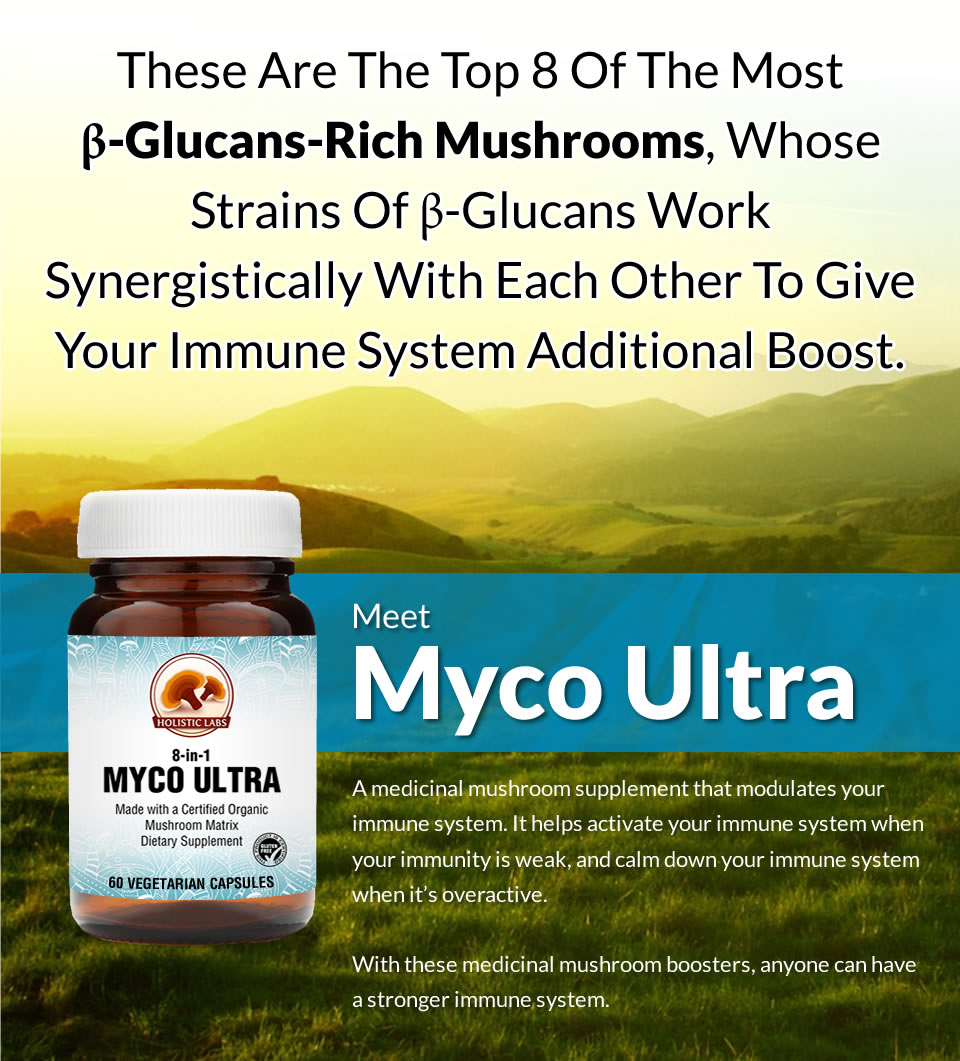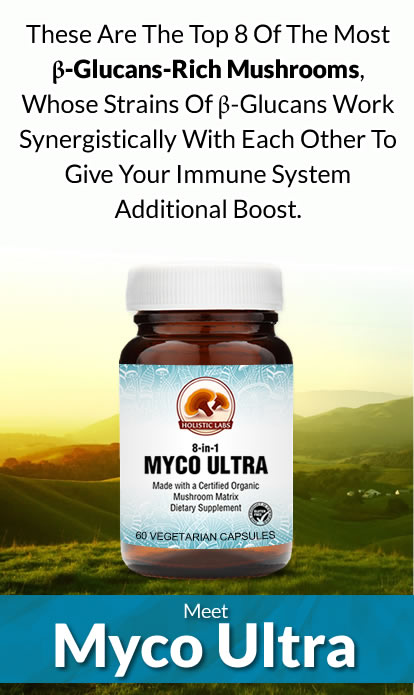 Here's What
Dr. William Says About Myco Ultra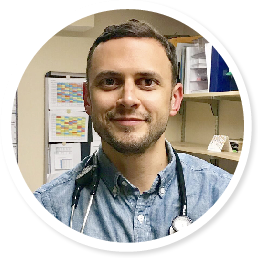 Dr. Charles Williams, MD
Board Member of the American Academy of Pediatrics
Myco Ultra is Produced With
The Highest Quality & Safety In Mind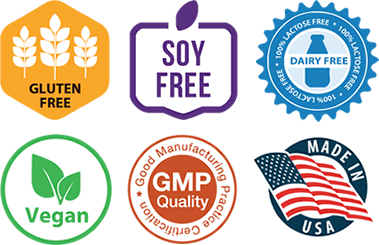 Third Party Test Results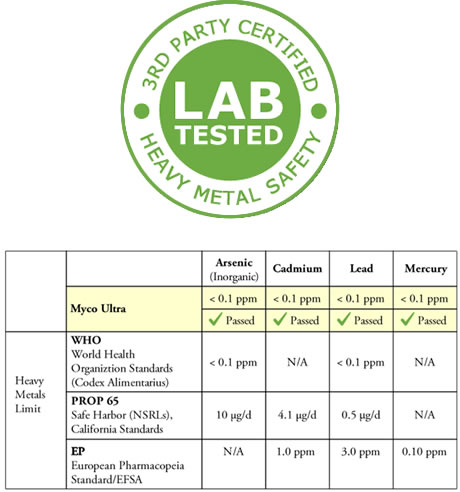 Hear How Other Customers
Activate Their Immune System With Myco Ultra
What Makes
Myco Ultra
So Powerful?
There are five reasons why Myco Ultra has become
the most powerful source of medicinal mushrooms with β-glucans
today.
We carefully chose sources that are measured for the highest potency.

This keeps money in your pocket by allowing you to get a lot of benefits from just a few capsules.

With weaker products, you end up spending many times more simply because you have to take more capsules and you are forced to keep ordering more.
Myco Ultra is gluten and lactose-free.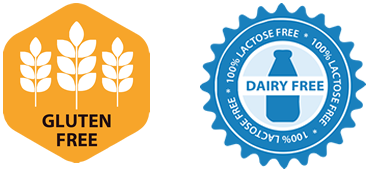 Now, THIS is very important.
Many companies use fillers in their capsules that contain gluten or lactose which can actually upset your stomach and cause allergic reactions.
Not only is Myco Ultra gluten-free and lactose-free…
…it is also free of any wheat, eggs, peanuts, tree nuts, soy, or crustacean shellfish.
AND, it is totally vegan-friendly.
We wanted Myco Ultra to be available to as many people as possible.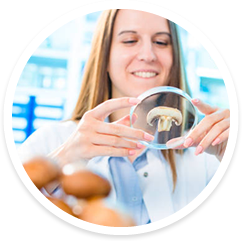 We sourced each mushroom strain only from organically grown harvests. Remember, if the mushroom supplement you are using contains pesticides, and herbicides, it will defeat the purpose.
Not only that, those herbicides and pesticides are known carcinogens, meaning, they are known to cause cancer.
Who wants to swallow "cancer pills"? We don't. And we don't want you to either.
Every bottle of Myco Ultra contains β-glucans that are from organically-grown mushrooms. So you will get the purest form of β-glucans you will find.
We use a formulation of 8 mushroom strains rather than one single mushroom to create the unique synergistic effect that you will experience once you start taking them.

By stacking the different strains of β-glucans, your immune system gets fortified against the greatest variety of infections, bacteria and illnesses.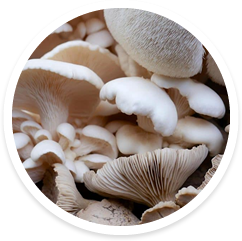 The fifth reason is something I'm sure you'll appreciate.
You see, the problem with many mushrooms, especially the good ones, is that they sometimes give you nasty breath so bad it can fill up a room.
We addressed that challenge with Myco Ultra, taking special care to make it hygiene-friendly so you can take it daily without worrying at all...
Myco Ultra is the only mushroom supplement on the market to meet these strict qualifications.
Order With A Peace Of Mind With Our
30 Days Money-Back Guarantee
Here at Holistic Health Labs, we make sure our customers love our product or we will refund them. We're so confident you'll enjoy Myco Ultra that we'll bear all the risks.
Experience
The Difference Today
Each bottle contains a 60-day supply (60 capsules).
Take 1 capsule every day ideally with a meal.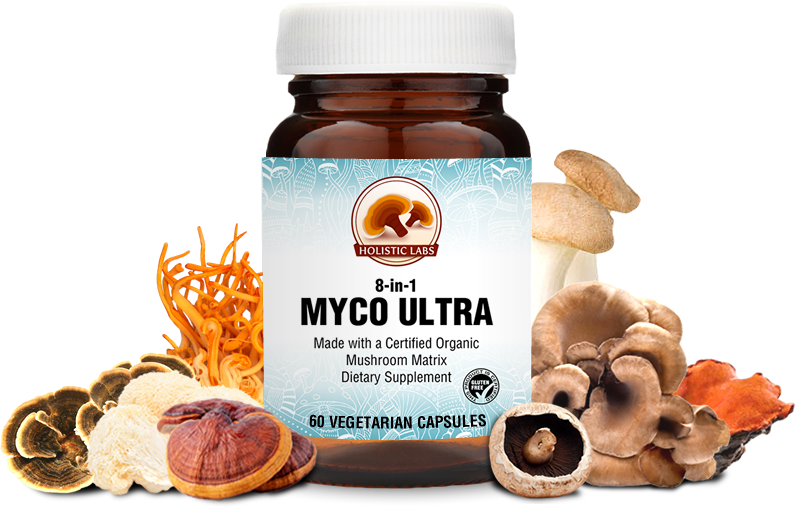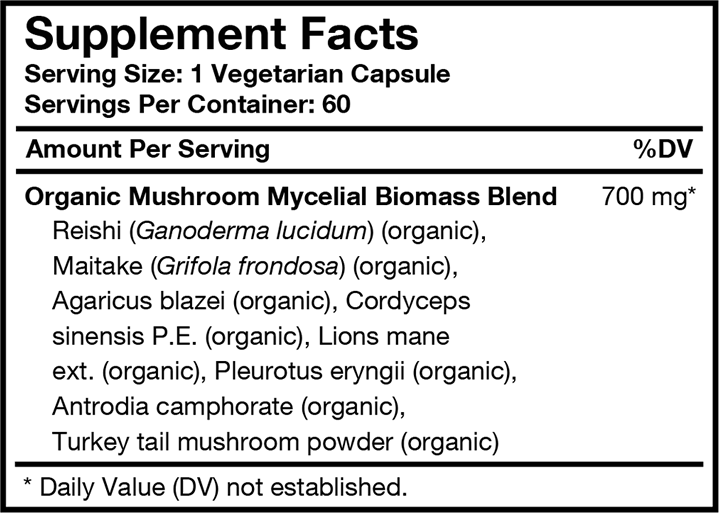 Frequently Asked Questions
How soon can I experience results after taking Myco Ultra?

Everyone's body is unique, so individual results may vary. While some customers started experiencing relief in as early as 1 week, it can typically take up to 4 to 8 weeks for the immune system to be fully healed and repaired.

This is why we recommend trying Myco Ultra for 30 days in order to enjoy the benefits.

However, within just the first few consumptions, most customers tend to experience:

✓ Faster recovery from cold and cough
✓ More energy during the day
✓ Better digestion
✓ Less bloating and gas





How do I use this product?

For immune system maintenance, simply take 1 capsule daily with a meal.





Is it ok to take Myco Ultra long term?

Yes, absolutely, and that is what is recommended.

When you take Myco Ultra for the long term, it helps activate and modulate your immune system.





Does Myco Ultra have any side effects?

Myco Ultra is not known to have any major side effects.

Myco Ultra is made using high quality, natural ingredients and has been tested safe for consumption. It was formulated without any binders and fillers, which makes it ideal for long-term consumption.

Because of its high potency, some customers may occasionally experience mild bloating at the start. This is normal and it usually goes away after a few days as your body is adjusting.

But if you experience adverse effects, please stop consumption and consult a doctor. If you are on medication or suffering from health conditions, we recommend informing your doctor about your interest in consuming our supplements.

In general, you should follow the recommended dosage of 1 capsule a day. Many customers following this dosage have provided feedback that they are experiencing improved immune system especially when Myco Ultra is taken long term.





Where is Myco Ultra manufactured? Did it undergo third party testing?

Myco Ultra is manufactured in a GMP-certified, FDA-registered factory located in Georgia, USA. We employ high standards through strict tests and inspections at all stages of production. This ensures that our customers receive only top quality products.

From initial preparations, we partner with reputable suppliers to secure high quality raw ingredients. When our raw ingredients arrive, we do another round of testing on the ingredients for their purity and identity.

After each bottle is packed and ready to ship out, we send a sample bottle to a third-party testing lab to test for heavy metals and ensure that it passes the heavy metals test before shipping it out to our customers.

This ensures that Myco Ultra adheres to strict US standards and compliance requirements.





How will this product be shipped to me and how quickly?

We will ship your order directly to your home or office using USPS priority mail if you are based in the United States and you will have it within 3 to 6 business days.





Will anything else be sent to me, or billed to me, after I order?

We offer both the ONE Time Purchase and the subscription purchase. If you choose the ONE Time purchase, you won't be charged again in the subsequent months. There will not be any automatic recurring billing. You will only get shipped what you order today and nothing more.

It is only when you choose the subscription option, then we will automatically ship out the products to you. You can cancel anytime by email (support@mycoultra.com), call (1-888-302-8331), or live chat with our customer support team.





What currency are the prices in?

All prices shown on our website are in United States Dollar (USD), but you can purchase outside the US as we also ship worldwide.

If you're using non-US currencies, the conversion will be done by your bank or payment provider and they will advise in your currency.





Is it safe to order online from your website?

Absolutely. We use a 256-bit secure ordering server so you are protected the same as if you were ordering from Amazon.com or any other trusted websites.





How long will the initial low price last?

We are unable to guarantee today's pricing beyond today. Once we get enough testimonials and reviews, we will most likely increase the price.





What if this product doesn't work for me?

Myco Ultra was created to work. If, for any reason at all, you are unsatisfied with your Myco Ultra purchase, just let us know and we will refund even empty bottle without question. You're always protected by our industry best 30-day Money Back Guarantee.

OK, those are all the frequently asked questions. If you have anymore when you start using Myco Ultra, you have our Customer Service email at support@mycoultra.com or call us at (1-888-302-8331) between 10am - 10 pm Eastern Time. We will be happy to answer any question that comes up.

So again, if you haven't done so already, place your order right now and start the road to feeling great again.